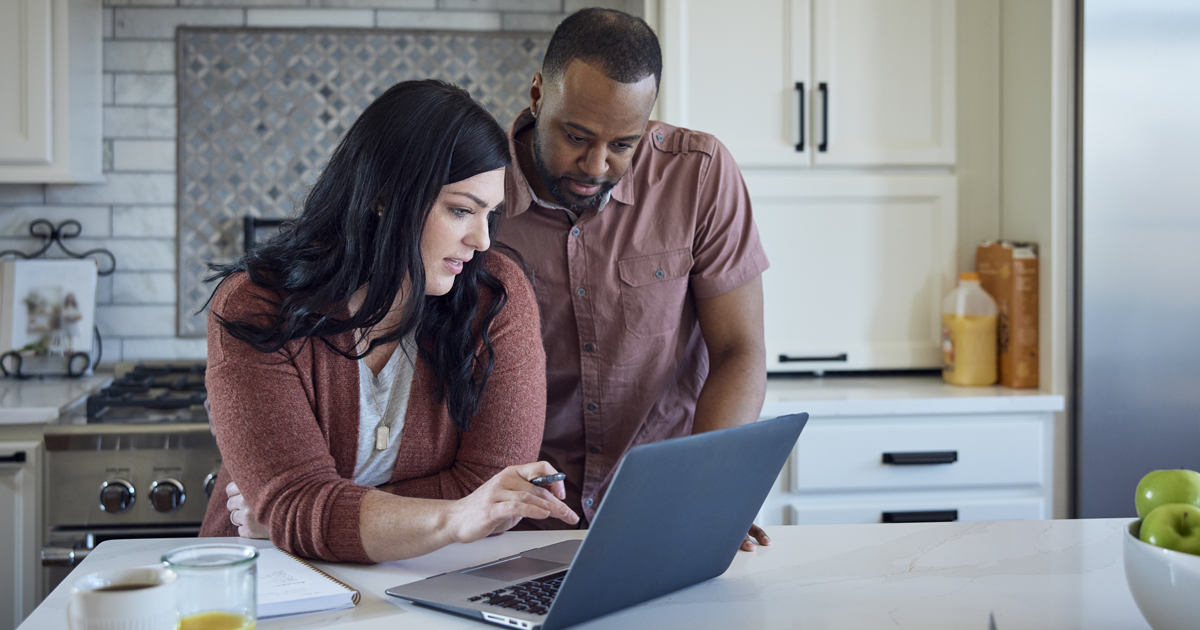 Keeping up with the ever-rising cost of living isn't easy for anyone. It's difficult to juggle bills and unexpected expenses that inevitably arise at the most inopportune times. Yes, there are whispers and even shouts from our neighbors about the rising cost of everyday items like fuel and food. In general, however, even when the health of the economy is not in question, it can be difficult to cover the cost of day-to-day life for many Americans. According to data from a recent survey1 done by CNBC and Momentive, the number of US citizens living paycheck-to-paycheck has risen to around 58%. When assessing how many Americans "feel stressed" in reference to the health of their finances that number rose to over 70%.1 Although those percentages seem a little high, they are unfortunately not shocking at all. Ask around and you will likely hear from your neighbors and friends that money stress is a part of daily life. For some people, the stress of daily expenses feels almost natural. 
Financial well-being, however, is not out of reach. Learning to take control of your finances, no matter what they look like, is possible. But what do you do when your finances are not in a healthy spot, and there are unavoidable, necessary expenses that just can't be covered by your current paycheck? In some situations, specifically when an emergency arises, you may need to borrow money from family, friends, or your neighborhood lender. When necessary, a Payday Loan can provide fast access to cash2 to customers who are facing a tough predicament. Despite the bad rap that Payday Loans can sometimes get, these short-term loans are a needed option4 for many people who are facing few if any alternative choices. Payday Loans provide quick, simple access to cash when you need it the most. Rainy days are a part of life, unfortunately. When you're facing a hard financial situation, an easy answer does not seem possible. However, at easymoney, we work hard to provide cash solutions that help our customers when they are in need of fast cash but have limited access to resources.
So, what are Payday Loans exactly? How do they work? What are the Payday Loan requirements when applying? Let's take a quick look at Payday Loans offered by easymoney as well as a few highlights of Payday Loans in general.
What is a Payday Loan?
Payday Loans are short term loans that are designed to be paid back to the lender on the borrower's next pay day.3 Simply put, if you need funds to see you through to pay day to cover an emergency expense, a Payday Loan, like the quick Payday Loans* offered by easymoney, could be the needed solution. If you are  approved following  a simple application process, you can borrow funds and then pay back the loan on or around your next pay day. Loan amounts and availability are determined by your state of residence. Fast Payday Loans are the name of the game, and most lenders offer quick turnarounds for their lending decisions as well as speedy funding. Payday Loans are available at easymoney and we make the in-store application process simple for our customers.
Who is a candidate for a Payday Loan?
Simple, fast loans are important when you're facing a tough situation that requires a cash solution. Borrowing money from family and friends is not always an option for everyone, nor is obtaining credit from a traditional lender. When an unexpected financial need arises, where can you turn when you've exhausted other options and avenues? Payday Loans may fill the gap for many people who need them, and easymoney provides exceptional service to all of our customers to make the process easy. As a Payday Loan direct lender, easymoney manages the process for our loan applicants from beginning to end which means you can rely on our team for exceptional service from the moment you apply until after your loan is paid back in full. If you have less than stellar credit, you can still apply for a Payday Loan.
Is applying for a Payday Loan easy?
Applying for quick Payday Loans is simple and easy. You can apply in store with a representative who will walk you through each step of the process. Make sure you take the required information and documents with you to the store to ensure everything moves swiftly. Each state has specific requirements, and easymoney  loans are only offered in Alabama** and Tennessee currently, but typically you can expect that you will need the following to apply for a loan:
An Active Bank Account
Government-Issued Photo-ID
Proof of Income
Most Recent Bank Statement
Checking Account + Bank Routing Number
Social Security Number/ITIN
Loan decisions are rendered quickly to help get you on your way with cash in hand. Once approved, you will receive cash in store, and payment on your loan will be due on or around your next pay day. Make sure you discuss your repayment due date with our team to ensure you understand when you will need to pay back the loan. Easy Payday Loans are only easy and helpful if you have a plan in place to repay the loan, so make sure you review our best practices below and consider your ability to repay4 the loan prior to applying.
Best practices for Payday Loan repayment:
When you're in a pinch, it's easy to become laser focused on receiving the funds necessary to fix the problem. However, it's important to remember that repayment of your loan is part of the process. Your Payday Loan payment will be due on or around your next pay day. This can range anywhere from 14-30 days from the time you take out the loan. You'll want to repay the loan in full when it is due, so make sure that the loan amount plus interest and fees is built into your budget plan for your next pay cycle. We know that this can be difficult when you're already in a pinch, but it is important to make every effort to repay your loan quickly and according to your loan agreement to keep your costs for borrowing as low as possible.2
If a Payday Loan does not seem like the right option for you, easymoney offers loans where you may use your vehicle title as collateral in Alabama and Tennessee. Our Tennessee customers also have the option to apply for an unsecured Line of Credit while our Alabama neighbors can opt to apply for an Installment Loan. All of our loan options are available for review and our team is always standing by to answer any questions you may have when choosing the loan option that is available in your state and best fits your current needs. We also offer online loan options if you do not reside in Alabama or Tennessee; visit our Online Loans page to learn more about the options available to you in your area. We are here to help all of our neighbors as quickly as possible, so please do not hesitate to drop by your nearest store with any questions you may have. When you need a lending option that you can count on, easymoney is here to help.
*Loan Products: Subject to state regulations, eligibility, credit check, underwriting & approval, and meeting state database eligibility where required, based on type of lending product requested. All products are not available at all locations. Rates, terms and conditions apply. See associate for details. Lending decisions and funding times subject to system limitations. Some applications may require additional verification, which can delay the lending decision.
**Alabama: Minimum age to apply in Alabama is 19. Title loan amount determined by condition of vehicle and borrower's income. Not all clients or vehicles qualify. Title loans are made under the Alabama Pawnshop Act, Ala. Code 5-19A-1 et seq.
Jessica is hyper-focused on making information about the Personal Loans offered by easymoney including Payday Loans, Installment Loans, Line of Credit, and Title Loans accessible and easy to understand. Learning the basics about finances shouldn't be complicated after all! The key to responsible borrowing is understanding the loans you're considering, and it's Jessica's mission to help anyone considering a loan make an informed decision. Jessica is passionate about sharing easy-to-follow Budgeting Tips and helping readers increase their financial literacy in the Financial Corner of the blog. You'll find great budgeting tips, Simplified Savings tips, and information that will help you improve your financial wellness sprinkled throughout each of her blogs.