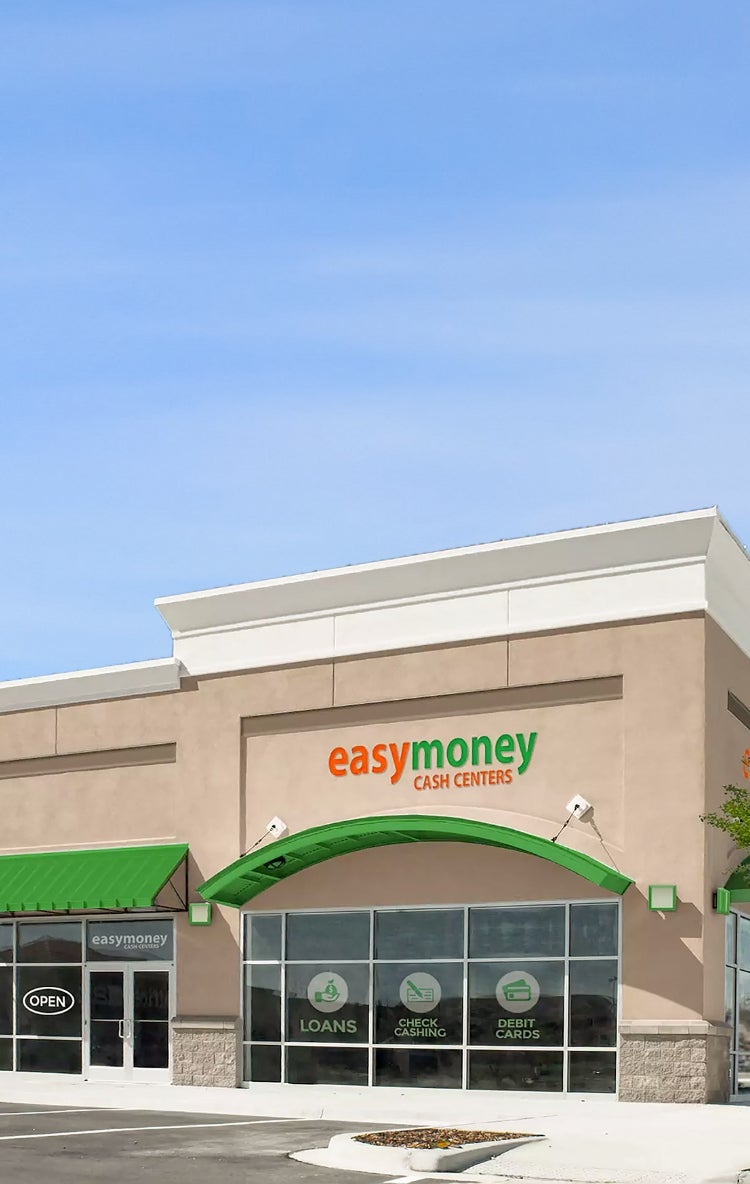 In-Store Services
We offer more than just loans
Financial Services Made Easy
easymoney is more than just your go-to neighborhood loan provider. We offer financial services ranging from check cashing to money orders with the enthusiasm and expert knowledge you can always expect from our team.
Check Cashing
Keep more of your money each time you cash a check with easymoney. We offer competitive rates for our check cashing service. Your neighborhood stores are conveniently located so you can be on your way in a flash!
easymoney is inclusive, we cash all types of checks for our neighbors.
Payroll Checks
Personal Checks
Unemployment Checks
Tax Refund Checks
Hand-Written Checks
Your Business Checks
Just bring your government issued ID and printed check to our check cashing store (wait to sign your check until your arrival), and we will get you the cash you need quickly! Rules and fees apply, chat with an easymoney Loan Expert for details.
Money Orders
Don't want to send cash? Need a money order? easymoney's money order service has got you. No bank account is needed, and money orders are a great alternative when you need to mail funds or work with a service provider that doesn't accept cash or personal checks.
Money orders are more reliable than sending cash. Many providers don't accept cash or personal checks, so this is a great way to ensure your funds are delivered safely.


Green Dot® Visa®  Debit Cards
When you want to make online purchases and you don't have a bank account, a Green Dot Visa Debit Card is an easy solution. Just pop by your nearest easymoney store to apply. We make the process of adding funds simple, so you can shop and swipe without worry. This debit card works as a bank account, and you can use your card anywhere Visa® is accepted.
Once approved, you can use your card to shop, pay bills, get your pay up to 2 days early1, access overdraft protection up to $2002 and free ATMs nationwide.3 You will receive routing and account numbers and can obtain a card at any of our locations.
You can use your Green Dot Visa Debit Card to make online and in-store purchases everywhere Visa debit is accepted in the U.S.
Wire Transfers
We offer Wire Transfer service through Western Union® and we make the process easy. If you need to send money to someone in another state, or in another country, your local easymoney experts can help. Visit your local store so we can help you securely send or receive money in a flash.
Emergencies happen, and when they do, easymoney is here to support you. We are able to electronically wire transfer money to anyone worldwide. After you arrive at the store with your ID, you will fill out a quick form and we'll handle the rest! Connect with an easymoney expert for more information.
Don't forget! You will need to bring the cash you wish to send, and a government-issued photo ID. If you want to send a larger amount of money you may also need to provide your date of birth and occupation as well as your Social Security Number.
Bill Pay
Say goodbye to missed due dates! We make staying on top of your bills as effortless as possible. Keep track of your bills in one place with our Bill Payment service. Visit your closest easymoney store and our experts will help you pay your bill on time and provide you with receipts.
You can pay local bills and make payments to national companies such as AT&T® and Verizon®. We make paying multiple bills easy- whether it's phone bills, mortgages, credit card bills, utility bills or cable bills, we're here to help
Easily make your bill payments at your local easymoney store, even if you're needing an online bill payment service. Simply, bring your bill and the cash you would like to use to pay it and we will help you make the payment. We will also provide you with a receipt which will serve as proof of payment, so you can rest easy. We take the stress of online payments away and make the process a breeze.
Tax Prep
easymoney can help you prepare when tax season is near! Filing taxes can be a daunting task, but our easymoney tax experts make your filing process easy. Since easymoney is your one-stop-shop for all your financial service needs, let your friends at easymoney help you wrap things up at the end of the year with our tax preparation service. Skip the hassle, visit our store for more information!

Restrictions may apply. Tax services only available during tax season. Product availability varies by location.
Our knowledgeable tax experts will guide you through the tax filing process from beginning to end to help you maximize your refund this year. Work with the people you know and trust at your neighborhood easymoney store! Tax services are only available during tax season and in select locations
Please bring any end-of-year, tax-related documents such as your W2s, 1099s and any other statements you believe will be useful. Because each case is different you may have additional questions, so give us a call before you head our way! Restrictions may apply. Tax services only available during tax season. Product availability varies by location.