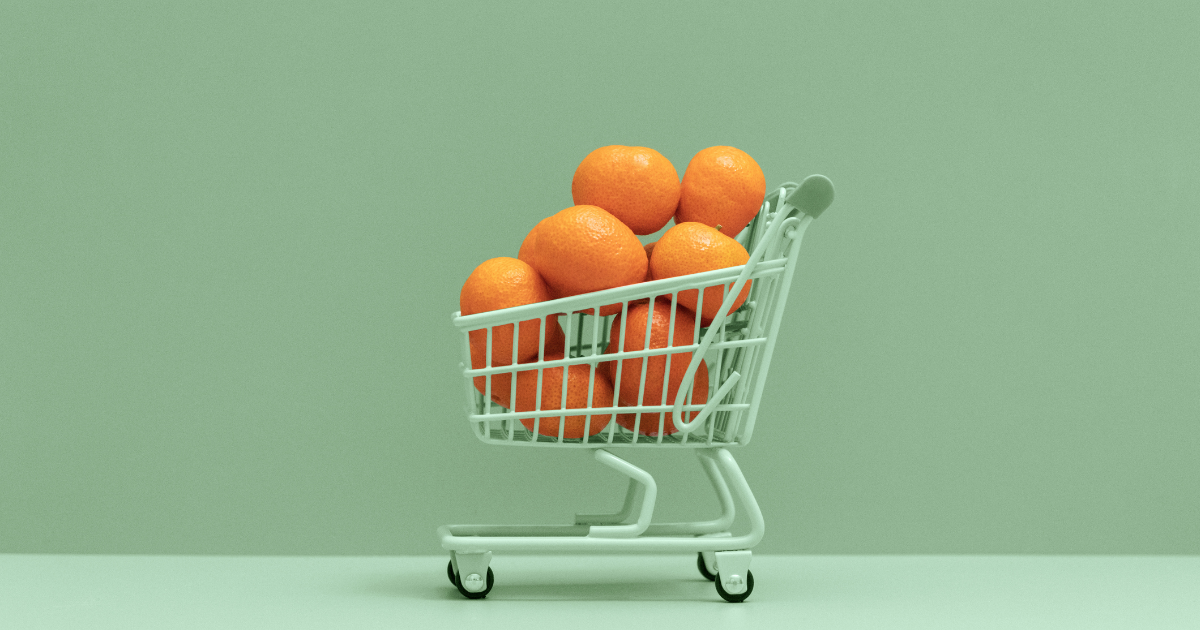 Anyone who has been to the grocery store lately has likely noticed that prices seem to be skyrocketing. But how much has the cost of food actually risen? According to the U.S. Bureau of Labor Statistics,7 and the data released via the Consumer Price Index Summary the price of our food has risen 3.6% over the past year. Specific items such as baked goods have risen more dramatically than that—almost double in fact. Going out to eat is significantly more expensive as well which means there's never been a better time to get serious about budget friendly grocery shopping. Implementing tips to save money on groceries is not difficult when you have a plan in place and do a little bit of work before heading to the store. If you need to start shopping on a budget, employ the following tips to help keep you on track!
Creating a Grocery List on a Budget
Include how much you should be spending on groceries in your monthly budget, and before you head to the store, create a plan to shop and save with as much mindfulness as possible. Creating a budget will include allocating funds each month for groceries, eating out, and treats when possible. Understanding how much money you have to spend for the month on groceries—as well as an understanding of how much you've spent historically prior to creating a budget plan—will save you in the long run. Knowing how much to expect to spend will dictate the recipes and meal plans you utilize in the meal rotation each week. Try breaking up your budget into weekly trips to the store and then creating meal and shopping lists that work within that budget.
Meal prepping and meal planning6 are commonly adopted practices that can save you time and money. Understanding how much money you have to spend on a week's worth of meals will help you decide whether cooking large batch meals that can be divided into multiple servings is a better idea for your budget than creating multiple meals. You'll also know what to buy for groceries each week when you know which ingredients you need. Budget friendly meal ideas and recipes are readily available online and in various cookbooks. Planning can be fun, too. It's a treat to try new meals and to make a game of sticking within budget. So how much should you even plan on spending? According to the USDA,5 in July 2023 costs for food for a family of 4 can range from $865.40 to $1,563 per month. That's quite the range and based on statistics for kids and adults ranging from 1 to over 70 years old. The best way to figure out what you should spend is to look at your past monthly trends and compare that to the income you have available. Then you calculate and adjust to make it work for your situation. If things are particularly tight, there are programs available such as food boxes from your local food bank9 to help supplement your groceries.
Avoiding Impulse Buys
Going to the grocery store without a list is not advisable if you're sticking to a budget, and one of the reasons is that you're more likely to indulge in impulse buys. Grocery stores are for profit businesses, and they're in the business of getting you to purchase as many items as possible.1 How many times have you run into the store to "grab one thing" and walked out after spending double what you planned on a sack full of grocery items? I know it happens to me more often than I'd like to admit. Avoiding these impulsive purchases can trim the fat on your monthly grocery bill significantly. Another way to avoid spending on items you didn't plan to purchase is to avoid taking anyone with you7 to the grocery store if possible. When you are the designated meal planner and shopper, you are on a mission. You know what you need, usually where it is in the store, and you have a plan. Bringing along shopping partners opens the door to "can we please have it?" You can avoid giving in to special requests from family (particularly little ones) by doing your grocery shopping alone.
Finding Deals
Coupons and deals galore are available in grocery stores and the good old Sunday paper.7 If you're taking on the rewarding challenge of couponing, grabbing a newspaper each Sunday will become part of your routine. Each week there are numerous coupons and sale papers that can help you plan your shopping trips and meals for the week. Continuously looking at the prices of items you love and knowing what a good deal really looks like will help you know when an offer is stellar7 and when it's mediocre and not worth purchasing. You can also shy away from the big brands if they're not on sale. Purchasing the store brand (aka generic)6 of certain items can save you money. You can also buy extra items when they're on sale and freeze them or freeze larger meals that you've prepared to have on hand in a pinch to avoid going out to eat. Likewise, before an item expires or goes bad, you can freeze what you have not used4—make sure to look up proper freezing and storing for the specific item in question to avoid spoiling the food or risking food poisoning. Ultimately, watching for deals and shopping according to the sales you find2 each week will help you save money and buy your groceries on a budget.
Stocking Up
Buying certain items in bulk may help keep the grocery bill lower over time, but it requires quite a bit of planning. Pay attention to the items that you use regularly such as toiletry items, cleaning supplies, and staples that you keep in your pantry3 like rice, grains, beans, and canned goods. Stocking up on these items several times a year may help you save in the long run. Always pay attention to the price of an item in relation to the weight of the item when price checking to ensure you're getting the best deal1 possible. Stocking up also means fewer trips to the grocery store7 which can help you stay on track by avoiding impulse buys which we've already discussed can easily break a budget.  
No matter the tactics you employ when grocery shopping on a budget, you'll find that shopping with a plan will help you to save money. Take the time to work through your plan monthly and revisit the plan each week before heading to the store. Keeping your budget in check can help you stay on track financially. Sometimes, of course, things happen that are beyond your control. If you find yourself in need of a helping hand, visit your neighborhood easymoney store for more information about the loan options available to you.
Sources
Sources:
1Paul, Trina (2023, May 15). Here are 5 tips for grocery shopping on a budget now that prices are going up Retrieved from: https://www.cnbc.com/select/tips-for-grocery-shopping-on-a-budget/
2LaPonsie, Maryalene (2023, Apr 13). How to Save Money When Grocery Shopping on a Budget Retrieved from: https://money.usnews.com/money/personal-finance/spending/slideshows/how-to-save-money-when-grocery-shopping-on-a-budget
3Lauren, Amanda (2023, Jun 23). 5 Cheap Groceries You Should Always Stock Up On Retrieved from: https://www.realsimple.com/best-cheap-groceries-7551347
4Emilie Martin and Molly Greeves (2023, Jul 20). 6 ways to cut your grocery bill Retrieved from: https://www.goodhousekeeping.com/uk/consumer-advice/money/a27959095/ways-to-cut-grocery-bill/
5U.S. Department of Agriculture (2023, August). Official USDA Food Plans: Cost of Food at Home at Three Levels, U.S. Average, July 20231 Retrieved from: https://fns-prod.azureedge.us/sites/default/files/media/file/CostofFoodJul2023LowModLib.pdf
6Bennett, Karen (2023, Mar 9). 17 ways to save money on groceries Retrieved from: https://www.bankrate.com/banking/savings/ways-to-save-money-on-groceries/
7Courtney Neidel and Tommy Tindall (2023, Apr 25). How to Save Money on Groceries: 14 Tips to Try Retrieved from: https://www.nerdwallet.com/article/finance/ways-to-save-money-on-food-groceries
8U.S. Bureau of Labor Statistics (2023, Aug 10). Consumer Price Index Summary Retrieved from: https://www.bls.gov/news.release/cpi.nr0.htm
9Feeding America Retrieved from: https://www.feedingamerica.org/find-your-local-foodbank
Jessica is hyper-focused on making information about the Personal Loans offered by easymoney including Payday Loans, Installment Loans, Line of Credit, and Title Loans accessible and easy to understand. Learning the basics about finances shouldn't be complicated after all! The key to responsible borrowing is understanding the loans you're considering, and it's Jessica's mission to help anyone considering a loan make an informed decision. Jessica is passionate about sharing easy-to-follow Budgeting Tips and helping readers increase their financial literacy in the Financial Corner of the blog. You'll find great budgeting tips, Simplified Savings tips, and information that will help you improve your financial wellness sprinkled throughout each of her blogs.