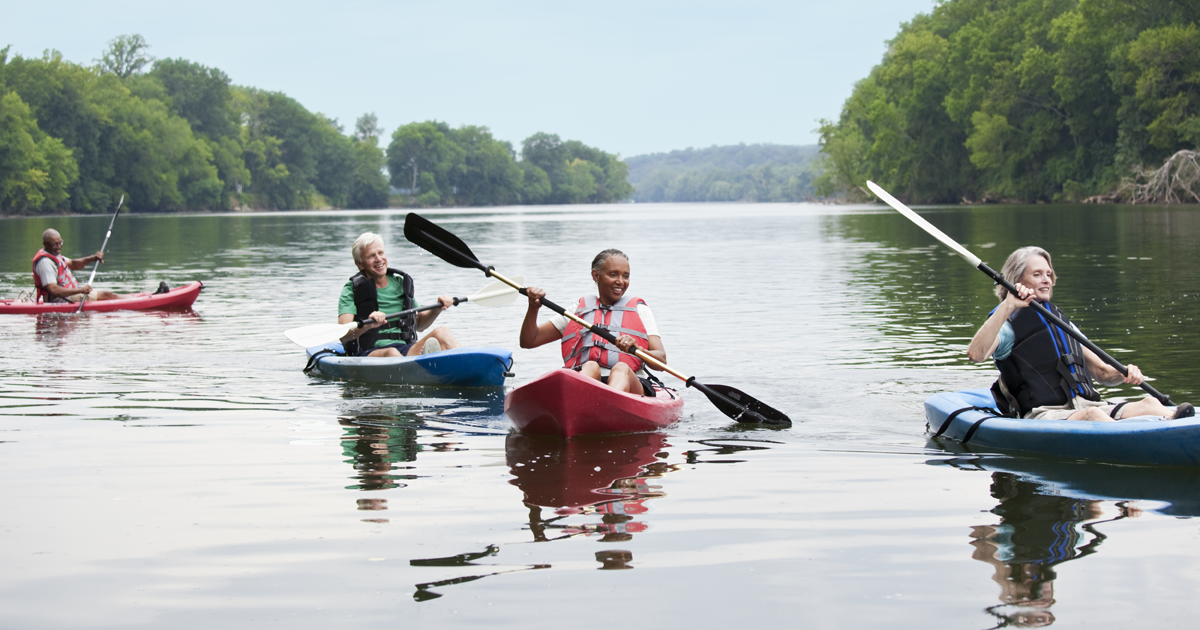 Summer days are made up of sunshine, friends, family, and fun. When you have kids, summer also means an influx of spending on activities to keep boredom at bay. When kids get bored, it can equal a frustrating experience for adults. It's important to have a summer budget plan in place as you plan activities for the season. At easymoney, we believe budgeting should be simple, so we put together an easy-to-follow guide to summertime fun that won't break the bank. Our lists of fun, free or low-cost activities can fill your schedule and keep everyone occupied all summer long. We've also added a healthy dose of inexpensive things to do with kids indoors to help you escape the heat on the hottest days. When planning your summer activities, always keep safety in mind as well as the ages of the kiddos you're including in the fun. The best summer activities are simple and easy to pull off. Summer is all about relaxing after all!
Free Fun is the Best Fun!
Looking for ideas when planning out your days during summertime? If you have little ones at home, you know it's important to keep things moving to avoid boredom and to keep little minds engaged. Breaking things up throughout the day is a great way to ensure that your kids are not only occupied but mentally stimulated as well. Physical activity coupled with educational engagement will help your kids pass the time in the healthiest ways possible!
Stay cool, friends! Indoor Activities:
Visit your local library and check out the activity board to find local, unique offerings that should be mentally stimulating and fun!
Find your local YWCA and sign up for various kids' activities (note: some camps may take place indoors and there may be a cost associated with signing up). I grew up going to YWCA camps and always had a blast! I even learned to swim at the YWCA! Bonus: YWCA camps are social media free2 which means your kiddos will be engaged in real world, offline activities while participating! Summer fun ideas that keep screen time to a minimum are exceptional ideas in our opinion! The YMCA is also a great resource for summer camps7 and day programs. Additional camp options can likely be found on your community website. A quick call to your city office could help you find programs that are available to you.
Organize a day filled with arts and crafts creation.1 Let your kids join in the planning by scouring Pinterest to find fun, easy, and free (if possible) art projects or crafts. You can complete the projects together or they can finish solo if you have a to-do list that is easier to accomplish without little helpers.
Skate your worries away! Indoor skate ranches and skate parks are a fun way to build coordination, confidence, and patience. It's also a great way to make new friends for kids and adults alike! Check out your local skate facilities and help your kids pick up a new, fun hobby. Make sure to stock up on safety gear first, of course. Helmets are an absolute necessity.
Find a new favorite, local museum and visit each exhibit this summer! A great way to spend the day when the weather is unbearable and air conditioning is a must, museums are typically free3 for locals. At most, the cost should be only a few dollars, especially for the kiddos. Check for seasonal passes – that may save you money as well!


Summer fun in the sun! Outdoor Activities:
A list of activities to do in summer wouldn't be complete without the classics. Biking, sidewalk chalk, pool time, and running around in the sprinklers are the picture of summer activities that are always fun!
Put a spin on backyard fun by building an obstacle course.4 You can use pool noodles to create obstacles when paired with dowel rods stuck into the ground. Make the homemade obstacle course as easy or hard as you like. Perhaps even add in a kiddie pool, slip-n-slide, or actions using other outdoor equipment to make things more interesting. Keep age and ability in mind. Always make safety a priority.
Another great way to utilize your backyard space is to set up an at-home camping5 trip. Pull out all of the stops and include smores, a tent, and spend time looking at the stars while learning a little bit about our galaxy. Some of my fondest childhood memories involve camping both in the backyard and at National Forests. So even if you aren't close to a big park with an opportunity for a big camping excursion, your kiddos will enjoy the experience just the same!
Plan your very own scavenger hunt6 with the whole family! You can utilize your at-home space or even take the hunt on the road to favorite spots around town. What will the prize be? Anything you'd like! It's super fun to make the last destination a treat, such as an ice cream shop or favorite restaurant where you can cool off and grab dinner. A more budget friendly option is to let the winner choose the next family fun activity!
Take a hike! If you live in an area with trails, pick a new one each week to explore. Always keep in mind the physical abilities of everyone who will be hiking. As with all outdoor activities, hydration and sun protection are a must! Take your favorite water bottles, slather on that sunscreen, and get out there to explore! If you want to make the hike more educational, check out a book about local plants or wildlife from the library and see what you can identify while on your adventure!
No matter how you choose to spend your summer, there are activities that you can enjoy at little to no cost which will help you stay within budget and on track to hit your bigger financial goals. When you're saving money, you are more likely to save up, for example, for emergencies that could come your way at any time. If you encounter an emergency situation prior to building your emergency fund, however, always rest easy knowing that easymoney is your neighbor in Alabama and Tennessee. Our AL and TN neighbors can count on their local stores to provide fast access to cash once approved after filling out a brief, simple to navigate application in-store. Emergencies happen, but easymoney is here to help you get back on track and back to the summer fun!
Jessica is hyper-focused on making information about the Personal Loans offered by easymoney including Payday Loans, Installment Loans, Line of Credit, and Title Loans accessible and easy to understand. Learning the basics about finances shouldn't be complicated after all! The key to responsible borrowing is understanding the loans you're considering, and it's Jessica's mission to help anyone considering a loan make an informed decision. Jessica is passionate about sharing easy-to-follow Budgeting Tips and helping readers increase their financial literacy in the Financial Corner of the blog. You'll find great budgeting tips, Simplified Savings tips, and information that will help you improve your financial wellness sprinkled throughout each of her blogs.